Property Taxes Due Nov. 30th
Date Posted: Friday, October 21st, 2022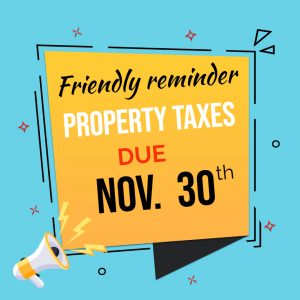 Annual Property Taxes are due on 11/30/2022.
A 5% per month penalty will be assessed on accounts paid after the November 30th due date.
Ways to pay:
By Mail – checks or money orders can be mailed to Town of Little Creek, P.O. Box 298, Little Creek, DE 19961. Please make sure it is postmarked by November 30th to avoid a late fee.
In Person – checks, money orders, or cash can be brought to our next Council meeting on 11/5/2022 at 7:oo pm.
Online – credit/debit cards and checks are accepted through the Online Bill Pay – Taxes link on our website at https://littlecreek.delaware.gov/taxes-fees/ . These are subject to a processing fee.
If you need assistance regarding your taxes or have questions, please email us at TownofLittleCreek@gmail.com.